Playing with Fire

Playing with Fire was a course that we ran over two weekends in the Spring with my partner in fire Lexa Laurance at her Kiln site at Farleigh Hungerford in the County of Wiltshire in England's beautiful West Country.

The object of the exercise is to show that serious Kilns capable of large amounts of heatwork can be built and fired using scrap, recycled, or renewable materials.

Some of the Kilns we have built and fired over the last few years:


In addition to the Kilns we have built using wattle and daub, we have also used commonly available house bricks.




This Kiln we called the 60 minute Kiln as that is how long it took a group of us to build it! However the firebox was too small and quickly became clogged; So we rebuilt the whole thing doubling the size of the firebox and using a locally made buff brick which we discovered (accidentally) can handle high temperatures.



That did the trick, and although the Kiln walls are only 4.5 inches thick we are able to achieve cone 10 plus pretty easily during the summer months(!) For fuel we are using bundles of off-cuts from a local sawmill. These are a mix of soft and semi-hardwoods and need drying and seasoning before use. We are also using small amounts of salt in the French style i.e. in small containers placed in the Kiln alongside the pots, rather than thrown in in large quantities at the end of the firing

For 2001 we rebuilt this Kiln, making it wider rather than deeper to accommodate more pots. It worked quite well

except that the foundations were not strong enough, so it effectively broke its back and we had to take it down.
If you are interested in building a Kiln similar to one of these the following information might be useful.

The bricks used are standard British house brick size 9 X 4.5 X 3 Inches, (22.9 X 11.4 X 7.6 Centimetres).

From these measurements you should be able to work out the proportions by counting the bricks used.

No mortar or cement was used, this allows the kiln to expand and contract without breaking too many bricks, and also means that replacement is relatively easy! The whole is held together with pieces of angle iron on the corners, fencing wire, and fencing turnbuckles. As we found in 2001 a good foundation is absolutely essential!

In the spring of 01 we built one of these Kilns in a friend's garden, shortening the length by three brick lengths, and increasing the depth of the firebox by two courses. It fires beautifully, and when the pot chamber was increased in size to accommodate larger pots there were no adverse effects The following pictures will be of some help in your experiments.
---
Powered by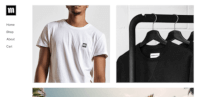 Create your own unique website with customizable templates.