Welcome to the website of Steve Mills the Bath Potter.
These pages are set out to share with you the pleasure I get from my involvement with Clay and associated activities, and the building and firing of Kilns.

I have been involved with these activities for a few years now, though the years spent as a production potter didn't leave an awful lot of time for experiment.

Since helping to found Bath P



otters' Supplies in the beautiful English West Country, odd moments of spare time began to appear, and consequently I was able to experiment a bit, observe the efforts and expertise of others who shared my interests, and develop my own thoughts and ideas, including focusing on kilns that can be built and fired by the individual rather than large ones that need

a team to operate them. I hope you enjoy the following pages.

Personal Work

With my own making I am trying as much as possible to use locally sourced ingredients.

Until recently this was restricted to glaze materials, and included a certain amount of recycled waste, which I find satisfying, especially as it is by and large free!

However this also means that a fair amount of work has to be done to make them viable, but I enjoy the process.

After a few excursions into other clay bodies, none of which gave me what I needed, I have now sorted out a local high firing brick clay, which although loaded with iron-rich mudstone which I have to sieve out, has proved to be just what I want, so yet another area of exploration has opened up while I try different additions such as other local clays and home-made grogs. On its own it is a joy to throw, but needs some temper included for larger wares.

A nice by-product of the clay making process is that sieved out mudstone when milled is really nice for decorating wither with a brush or as a slip!

"Waste not want not"
---
Powered by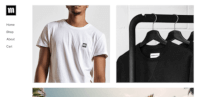 Create your own unique website with customizable templates.